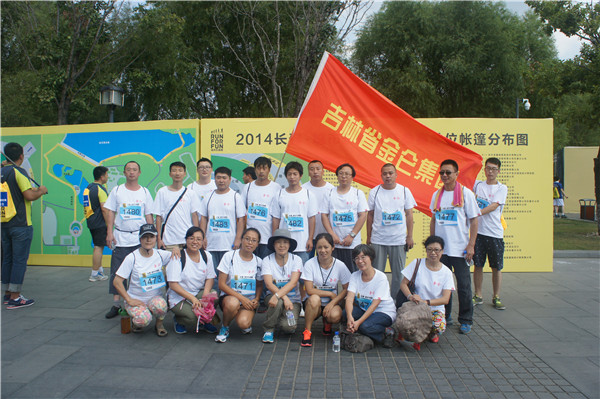 According to the Ministry of General Affairs, the "2014 Changchun City Music Race" was officially held in the afternoon of August 22 in Changchun Jingyuetan National Forest Park. Under the guidance of the State General Administration of Sports and Changchun Sports Bureau, Vanke sponsored the "City Le Running" and joined the city's influential enterprises and institutions to participate in mass sports activities with the aim of "running out of health, running out of happiness, running out of friendship". The purpose of urban happy race is to advocate a healthy working life style through happy running, let enterprises pay attention to the health of employees, and encourage enterprises to incorporate the health assessment of employees into the management content.
  The event began at 1:00 p.m. with a stylistic performance at the opening ceremony, followed by warm-up preparations before running, with teams dressed in various sportswear and forming a beautiful landscape. Starting from the main gate of Jingyuetan Lake, the participants pass through the North Putuo Temple, Jingyue Dam, Wangtan Bridge, Lotus weeping willow and other scenic spots, covering a distance of about 5.5 km.
  The gold Lun group sent 15 teams, including 10 men and 5 women. Let's work together to finish the whole journey. The company has been strongly supported by the company. Leaders of Jinlun Science and Technology Company attached great importance to it. Vice-General Managers Li Ye, Duan and Yuan personally participated in the competition and sent assistant general manager Han Jing to help themselves. Tiangong actively participated in the activities and sent five staff members to participate in the competition. In the case of heavy sales tasks, the company also dispatched two staff members. Jinlun spare parts company is still sending employees to participate in heavy production tasks and busy quality system audit. The finance department is very supportive of the event, sending 4 female employees. Yan Li Man, a finance minister, ran ahead of women in the competition and won honor for the company. In order to take care of the older colleagues in the team, the chief executive of Jin Lun technology ran the whole race. It embodies the spirit of Jin Lun's unity and fraternity.
  Participants said that taking part in such long-distance running activities can exercise, enhance endurance, relax the pressure of work, and make more friends. May we take this happy race as an opportunity to set off the upsurge of long-distance running, run out of the health of the Jinlun people, run out of the happiness of the Jinlun people, run out of the friendship of the Jinlun people, run out of the style of the Jinlun people.