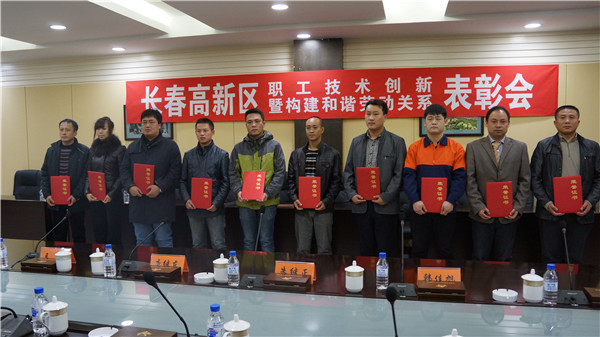 According to the Ministry of General Affairs, on the morning of October 28, 2014, the High-tech Zone Administrative Committee held a commendation meeting on workers'technological innovation and harmonious labor relations. Duan Shiyuan, the chairman of the board of directors of our company, was awarded "excellent entrepreneurs who care for employees" and Guo Shujiang, an employee, was awarded "Top Ten Golden Ideas" for "Improvement of Tool Durability".
  In 2014, the General Trade Union of Changchun High-tech Zone launched the activity of "double love and double evaluation" in the enterprises of the whole region, that is, "enterprises love employees, employees love enterprises, evaluation of outstanding employees who love enterprises and outstanding entrepreneurs who love employees". In this event, five outstanding entrepreneurs who care for their employees were selected, and Duan Shiyuan, chairman of the board, was one of them. In my contribution to the enterprise, our company staff Guo Shujiang's "Tool Durability Improvement" technical innovation project was rated as one of the "top ten golden ideas".
  Comrade Duan Shiyuan has always adhered to the "people-oriented" principle, safeguarded the legitimate rights and interests of staff and workers, treated staff with love and good faith, demanded himself with public morality and responsibility, actively carried out assistance and rescue work for workers in difficulty, made great efforts to give back to the society, strengthened the construction of enterprise culture, paid attention to quality education and professional and technical training of staff and workers, and carried out rich and varied work. Color workers' recreational activities create a good working atmosphere.
  Comrade Guo Shujiang in line with the concept of "enterprise as home" and "plant rejuvenation I glory", based on his post, conscientiously and conscientiously, conscientiously do his job; carry forward the spirit of ownership, and actively give advice for the construction and development of enterprises, promote energy conservation and consumption reduction, improve work efficiency and product quality.
  We hope that all the staff take the advanced as an example, based on their own duties, carry forward their achievements, and make further efforts to create a first-class, to promote the rapid development of enterprises to make new contributions.